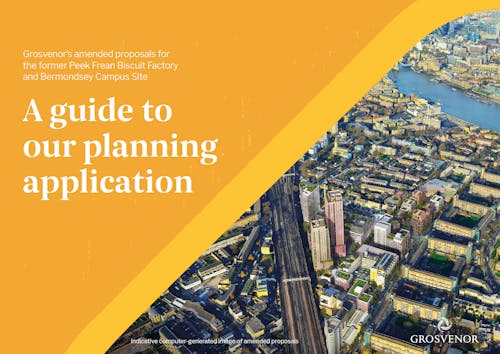 Submission Update
We are pleased to update you that we have now submitted our amended proposals for the former Peek Frean Biscuit Factory and Bermondsey Campus Site to the Greater London Authority (GLA).
Our amended proposals respond to the clear call for more affordable homes – and so are designed to deliver 35% affordable homes (on a habitable room basis) –which is equivalent to c.342 discounted market rent homes and c.140 homes at social rent equivalent– but they come with competing choices.
To help explain these choices we have produced a guide, which we hope is a useful summary. This guide is being sent to local homes and is also available to download from our website www.belonginbermondsey.com.
The guide also gives details about the public information events where we will present the amendments with additional supporting materials, including an updated model. These will take place in the Community Hall, 100 Clements Road, SE16 4DG on:
Wednesday 9th October, 14:00-17:00
Thursday 10th October, 16:00-19:00
Saturday 12th October 10:00-13:00
The GLA is running a consultation on our amended proposals, and we encourage you to share your feedback as part of this process by contacting biscuitfactory@london.gov.uk. Post consultation, the proposals will be considered at a public hearing convened by the Mayor of London, which is expected to take place before the end of the year.