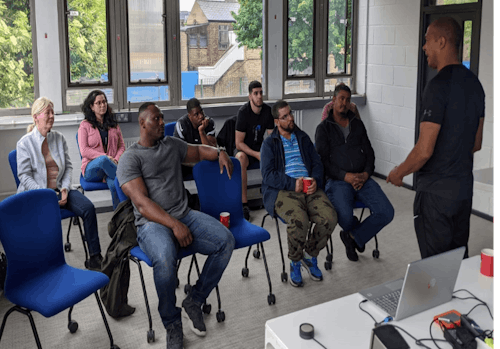 Mentoring workshop with Scotty Mills
In June we hosted a mentoring workshop with coach and Former Major in the Royal Marines Scotty Mills. He spent the day with a group of Keltbray staff and a Grosvenor apprentice to build their teamwork, leadership, and collaboration skills. Having previously worked with Olympic athletes and the English rugby and football teams, Scotty has a lot of previous coaching experience to draw from.
We spoke to a few of the Keltbray new starters to find out what they thought of the programme. Traffic Marshall Fanuel said, "The Biscuit Factory team feels like a family because everyone's so welcoming. Today has been just like that and I've learnt so much."
When asked about the purpose of the workshop, Scotty told us, "whilst I don't know much about construction, I do know that the best investment organisations can make is in its people. Everyone has a talent, but sometimes need some encouragement or guidance to bring this out. That's how you create a positive community where individuals can achieve their potential."
This is part of a wider mentoring initiative sponsored by Grosvenor to support people working in construction. To find out more please contact bermondsey@grosvenor.com.