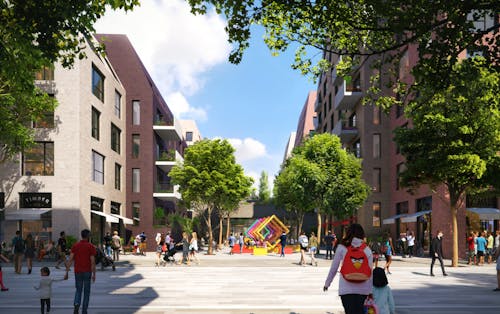 Plans for Bermondsey Approved by the deputy Mayor
In February 2020, the deputy Mayor of London approved the proposals for Bermondsey.
This follows the decision by the Mayor of London in May 2019 to call in the application and act as the planning authority for the scheme. Since then, we have been working closely with Southwark Council and the GLA to increase the level of affordable housing whilst ensuring the project, and its many other benefits, remain deliverable. On 21st February the deputy Mayor approved these amended proposals.
Alongside 1,548 new homes for rent and a school, Bermondsey will now benefit from new play and public spaces. Businesses in the area will enjoy greater footfall and additional local spend and new job opportunities will be created through 150,000 sq ft of flexible employment space.
We are committed to maximising the wide-ranging benefits of our proposals for local people, which goes beyond the physical delivery of new buildings and spaces and is underpinned by our Local Legacy Strategy.
Simon Harding Roots, Executive Director at Grosvenor Britain & Ireland.
"Since 2013 we've worked hard to become part of the community in Bermondsey and we are incredibly excited to get the green light for this development. I would like to thank local residents, the school, Southwark Council and the GLA for all their help contributing to these proposals.
We are committed to the area and will ensure that the transformation of the biscuit factory happens quickly and directly supports all those living and working in this part of the borough."