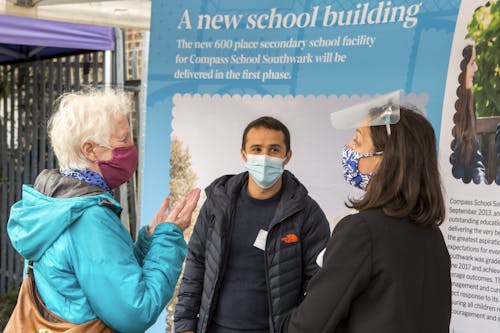 Thanks for coming to the October Event
The weather was on our side at the socially distanced outdoor event we held last year. We enjoyed being able to meet over 60 visitors in person.
Mick, Bobby and Sam from Keltbray were on-hand to answer your questions about the works on-site and the steps we're taking to minimise any disruption. We also shared information about our ongoing approach to keeping you informed as we deliver the plans for the area, as well as outlining the local employment opportunities that are being created in the neighbourhood.
The energetic team from Bede Youth Group ran a street-arts & crafts workshop for children to recreate their own version of the new mural on Clements Road. We loved Rhea's colourful and glittery rendition!
We were pleased to also be joined by the Biscuit Factory Museum, who brought along lots of historic trinkets and memorabilia, and the Blue Bermondsey BID, who shared information about local businesses in the area and the steps we can take to help support them during this difficult time. Visit www.bluebermondsey.co.uk/business-directory to find out more.